The usual cleaning practice protocol for open wounds includes wiping with gauze pads soaked in irrigation solution starting in the centre of the wound and working toward the outside.1 No particular attention is paid to the periphery of the wound, and the suggested technique may relocate debris and bacteria from the center to the creases of the wound periphery.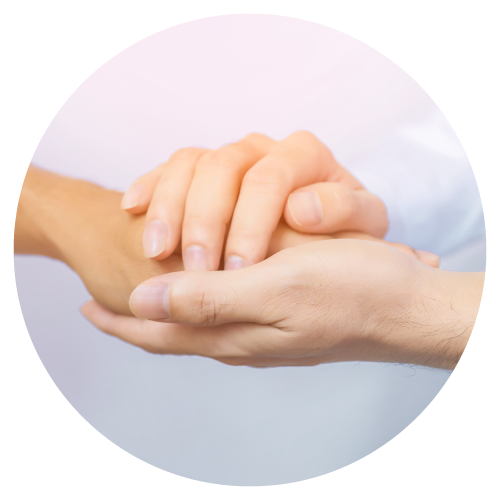 Testimonial from Patient's husband
"Before, we knew about the bacteria, but we didn't know where it was. After the clinician showed us the pictures, we know where it grows, where it stays, and where we have to clean the bacteria. We found out that the creases have bacteria. Bacteria travel from the crease and onto the wound. Before this, we knew she had bacterial infection and we cleaned, but obviously we didn't know if it was properly cleaned or not, so it [the MolecuLight i:X] is a helpful device."
Clinical Synopsis
Patient Condition: 56-year-old female who has lymphedema, diabetes, hypertension, and is morbidly obese was admitted to Scarborough & Rouge Hospital presenting with a venous ulcer on her upper medial thigh that was triggered by a small trauma 3 years ago. Prior to incorporating the MolecuLight i:X into the patient's treatment, many efforts with various dressings and NPWT therapy produced no improvement.
With this patient, cleaning was typically focused on the centre of the wound, as shown in Figure 1. By incorporating the MolecuLight i:X (in Fluorescence Imaging Mode™) into the cleaning protocol, the clinician was able to visualize moderate/heavy bacterial load in the creases and at the periphery of the wound (Figure 2) in real-time. She therefore focused on cleaning those edges and creases and used the MolecuLight i:X images to instruct the home caregiver (patient's husband) on where to focus cleaning.
After two weeks of cleaning every 2-3 days with the guidance of the MolecuLight i:X, there was a remarkable decrease in red (bacterial) fluorescence at the periphery of the wound (Figure 4). Furthermore, the wound bed began to granulate with the successful use of a Negative Pressure Wound Therapy (NPWT) device, which had previously failed with this patient.
At a Glance
Wound etiology & location

Venous leg ulcer, obesity-associated lymphedema

Patient demographics

Female, 56 years old

Patient-related challenges

Obesity-associated lymphedema

Diabetes

Hypertension

Patient's general care paradigm

Previous efforts with NPWT and various dressings produced no improvement

Clinician stated utility of the MolecuLight i:X

Guided cleaning

Patient education

Increased patient adherence to at-home cleaning protocol