The use of telemedicine is rapidly increasing in wound care. However, traditional signs and symptoms of infection can be difficult to determine remotely. Access to expert wound care practitioners at the bedside can be increasingly limited, especially in long term care facilities and homecare clinics, or when travel by specialists is challenging, such as in times of Covid-19.
MolecuLight offers a solution for diagnostic wound imaging via telemedicine, providing a link between the patient's bedside and remote wound care providers. This solution allows for the accurate detection of wounds containing bacteria (> 104 CFU/g) by using the MolecuLight i:X device at any care location, while the fluorescence bacterial information is viewed in real-time remotely by offsite wound care clinicians to provide guidance on patient care.
This i:X Telemedicine Solution allows for better and more personalized patient care by supporting the following initiatives:
Triaging patients: with wounds who are being treated in homecare clinics, long-term care centers or smaller clinics without a dedicated wound care clinician to better determine which patients have high bacterial bioburden and would benefit from travelling to the wound care clinician for more advanced wound therapies
Remotely monitor patients' wounds that do not have high bacterial bioburden and therefore may be able to continue remote treatment in their current setting
Remotely monitor the efficacy of treatment plans over the duration of the treatment to ensure the reduction of bacterial bioburden
Remotely have the wound care clinician guide the care provider at the patient bedside on how to best care for and treat the wound
Facilitating patient engagement in their wound healing through visualizing their wound's bacterial burden using the MolecuLight i:X
Fast, Simple Workflow
The i:X Telemedicine Solution is quick to implement, uses easily-accessible, commercially available applications, and requires a wi-fi connection.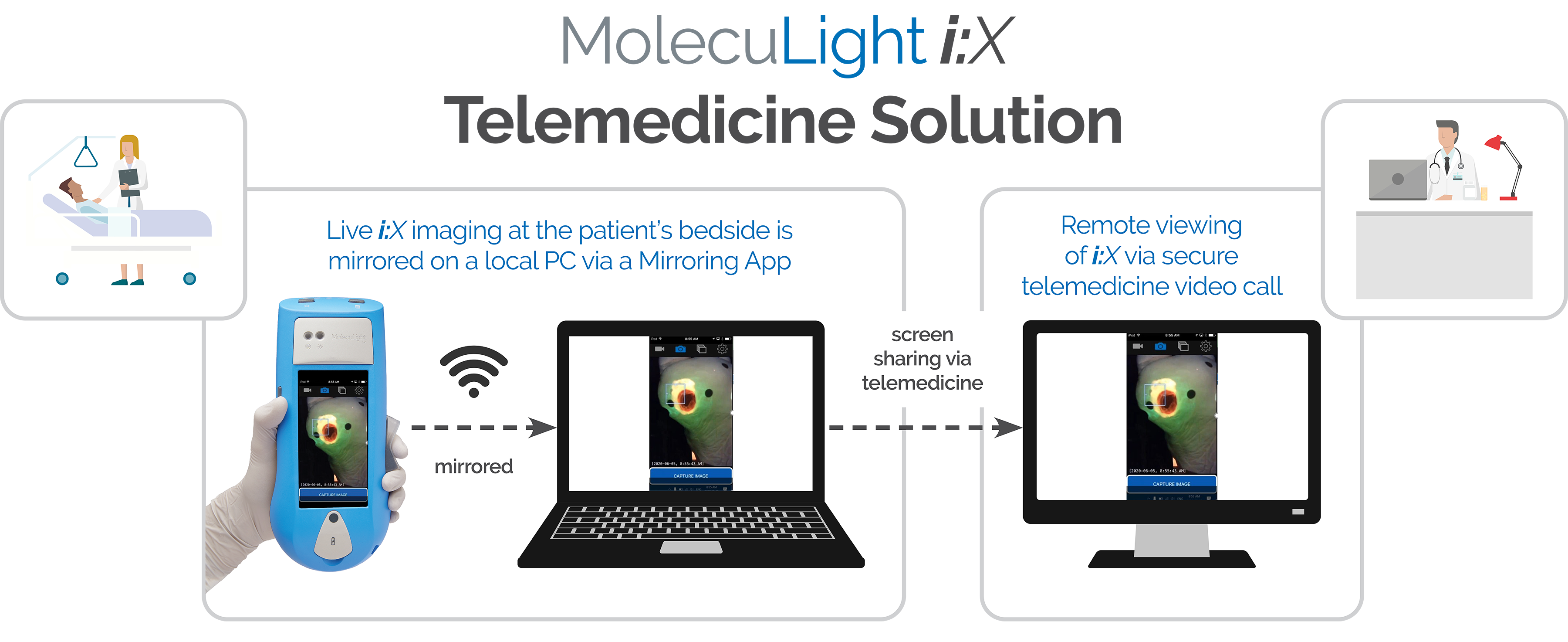 1. The i:X screen is mirrored to a local computer at the patient's bedside via a commercially available screen mirroring app.
2. The i:X solution then leverages the institution's preferred telemedicine application to share the screen of the local computer (with the mirrored i:X screen displayed) with the remote clinician.
With this ability to view the i:X screen, which is being operated at the patient's bedside by the onsite health care practitioner, the remote clinician can, in real-time:
Assess the wound(s) under standard lighting conditions,
Visualize the digital wound area measurements,
Assess and interpret the wound fluorescence, and
Provide wound care advice via telemedicine based on the bacterial information provided by the MolecuLight i:X.