Dr. Ralph DaCosta's eureka moment came in 2007 while doing a standard lab experiment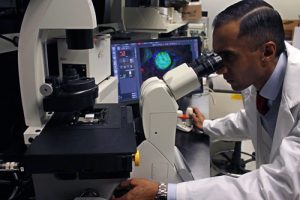 Dr. Ralph DaCosta, Molecular Imaging Scientist at Princess Margaret Cancer Centre and Techna Institute, University Health Network, has developed a first-of-its-kind device that enables clinicians to see and target bacteria in skin and chronic wounds in real-time. (Photo: UHN)
He was completing his PhD at the time and snapped a quick cell phone photo of his findings through the microscope to show his mentor and supervisor, Dr. Brian Wilson.
And then it struck him.
As he was running from his lab to Dr. Wilson's office to show him the photo, he realized two things:
Bacteria are fluorescent.
Cell phone cameras have the ability to pick up these fluorescent signals in real-time.
So, Dr. DaCosta, now a Molecular Imaging Scientist at Princess Margaret Cancer Centre and Techna Institute, University Health Network, thought: Is it possible to create a handheld, cell phone-type device that instantly visualizes and targets bacteria in wounds in real-time?
Yes – and he invented just that.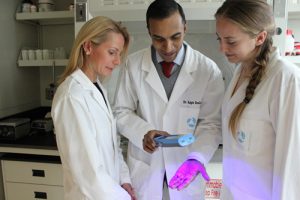 Above, Dr. DaCosta discusses the new MolecuLight i:X, launched for the first time in Canada for the wound care market, with Kristina Blackmore, Research Associate (left) and Dr. Kathryn Ottolino-Perry, Postdoctoral Fellow (right), who work in his Clinical Imaging Program. (Photo: UHN)
First-of-its-kind device approved by Health Canada
Dr. DaCosta founded venture-backed MolecuLight Inc. to commercialize the technology on June 1, 2012.
On Oct. 20, 2015, Health Canada approved the company's first product, the MolecuLight i:X, a first-of-its kind handheld fluorescence imaging device based on Dr. DaCosta's invention. The device enables clinicians to see and target bacteria in skin and chronic wounds in real-time.
"Chronic wounds and the impact of infection have been called the silent epidemic – one which diminishes patient quality of life, strains health care systems, and contributes to antibiotic resistance. Innovative technologies are needed to address these issues," says Dr. DaCosta.
"By helping clinicians 'see' clinically-significant bacteria levels at the bedside, our invention advances wound diagnostics by providing a more personalized and effective approach."
'A silent epidemic'
Chronic wounds resulting from hospital-acquired infections, an epidemic of diabetes and the increasingly complex health issues of an aging population, are a growing burden on patients, health-care providers and health-care systems.
The first clinical trial to validate Dr. DaCosta's device was in 2009 on patients with diabetic foot ulcers at the Judy Dan Research & Treatment Centre in Toronto.
"I'll never forget the first time we used the prototype device," says Dr. DaCosta. "We dimmed the lights, turned on the prototype and the bacterial infection lit up like a Christmas tree."
Given bacteria contain molecules that produce unique fluorescent signals, the device was designed to illuminate a patient's wounds with a specific wavelength of violet-blue light to excite these various molecules. Then, a sensitive camera with a customized imaging filter captures the fluorescent signals from the bacteria and tissue in real-time and without the use of contrast agents – which are commonly used to enhance visibility in medical imaging.
The trial confirmed the benefits of fluorescence imaging in wound healing; physicians were able to see what they couldn't before. While Canadian standard-of-care wound assessment uses subjective signs and symptoms, in addition to the Levine method whereby clinicians sample the wound using a swab to confirm the infection – MolecuLight i:X enables clinicians to rapidly detect clinically-significant bacteria in and around the wound for target sampling and better treatment decision-making.
"The need for better methods of assessment and diagnosis in patients with wounds is urgent if we are to deal effectively with the rapidly increasing number of patients who have these problems," says Dr. Keith Harding, University Dean of Clinical Innovation at Cardiff University, Wales, UK, and Editor-in-Chief of the International Wound Journal.
"The device acts as a useful aid to clinicians who treat patients with wounds and enables them to decide more accurately which patients need therapy."
"This device will assist in moving the art of wound healing into a respected and scientific discipline recognized globally," he adds.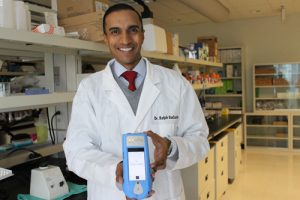 In 2014, Dr. DaCosta was named UHN Inventor of the Year for commercializing the MolecuLight i:X technology. Co-inventors on the device include Drs. Brian Wilson and Kai Zhang.  (Photo: UHN)
Revolutionizing the future of wound care
MolecuLight i:X can take photos and videos similar to a point-and-shoot digital camera. Clinicians can easily upload and monitor important bacterial information on a patient's file over time, wherever they are treated, be it in hospitals, long-term settings, or in home care.
"Improving the management of patients with infected wound care is just the first of many potential medical uses for this technology," says Dr. Brian Wilson, Senior Scientist at Princess Margaret Cancer Centre, Co-lead, Photonics, Techna Institute, and co-inventor of the technology.
"I am particularly excited by our current studies to optimize and validate the technology to help surgeons achieve complete tumor removal, reducing the need for follow-up surgery and lowering the risk of spreading cancer beyond the primary site."
Later this month, MolecuLight i:X will be used in a new clinical trial to detect bacterial infections in burn patients – and determine whether fluorescence-imaging can be used to target bacterial growth in wounds after skin grafting.
The handheld fluorescence device is also involved in a first-of-its-kind clinical trial at the Princess Margaret to determine whether fluorescence imaging can be used in real-time during breast- conserving surgery. The technology helps surgeons 'see' tumour cells and map tumour margins more effectively.  Surgical oncologists Wey Leong and Alexandra Easson, and pathologist Susan Done at the Princess Margaret are working in partnership with Dr. DaCosta's team on the trial.
Leaving a legacy
"As a scientist, you spend so much of your time studying something – finding out how the pieces fit together," says Dr. DaCosta.
"But to actually see an idea evolve and transform into a real, tangible product in the healthcare market that clinicians can use to help patients – and to know your research could have global impact – that's a surreal feeling."
Courtesy of UHNews