The MolecuLight i:X is a handheld fluorescence imaging device that provides instant visual detection and documentation of potentially harmful bacteria in wounds that would otherwise be invisible.1 The MolecuLight i:X emits a precise wavelength of safe violet light, which interacts with the wound tissue and bacteria causing the wound and surrounding skin to emit a green fluorescence (i.e. collagen) and potentially harmful bacteria to emit a red fluorescence (i.e. porphyrins).1 In real-time, MolecuLight i:X captures these red and green fluorescence signals using specialized optical components to filter out the violet light, and displays the resultant image immediately on the display screen (FL-image).1,2 The MolecuLight i:X is precisely calibrated to detect fluorescent bacteria at levels of ≥ 104 CFU/g on a quantitative scale or predominantly moderate to heavy growth on a semi-quantitative scale.3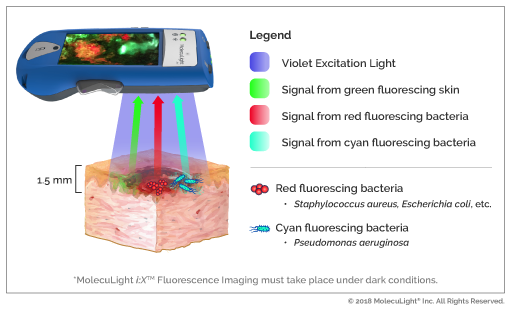 ---
Which types of bacteria can be detected?
Pre-clinical and clinical studies have shown that the MolecuLight i:X can detect red fluorescence from Gram positive, Gram negative, aerobic and anaerobic bacterial species1,5.
Pre-clinical research has demonstrated the following species can produce red fluorescence detectable by the MolecuLight i:X in vitro5 (see list below). However, there are many bacterial species not tested here that may also produce red fluorescence6.
Staphylococcus aureus
Staphylococcus epidermidis
Staphylococcus capitis
Staphylococcus lugdunensis
Pseudomonas aeruginosa
Pseudomonas putida
Escherichia coli
Corynebacterium striatum
Proteus mirabilis
Proteus vulgaris
Enterobacter cloacae
Serratia marcescens
Acinetobacter baumannii
Klebsiella pneumoniae
Klebsiella oxytoca
Morganella morganii
Propionibacterium acnes
Stenotrophonomas maltophilia
Bacteroides fragilis
Aeromonas hydrophilia
Alcaligenes faecalis
Bacillus cereus
Citrobacter koseri
Citrobacter freundii
Clostridium perfringens
Listeria monocytogenes
Peptostreptococcus anaerobius
Veillonella parvula